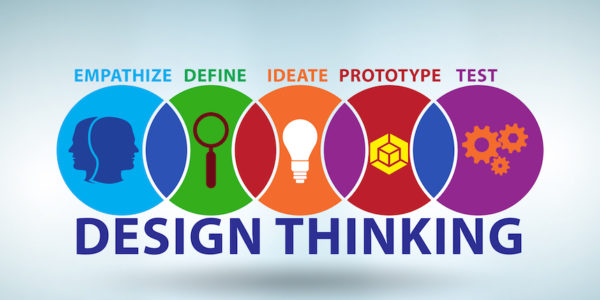 Have you ever heard of the term design thinking?
Maybe, you think design thinking can only be used by designers to design something. In fact, anyone can adopt this method, you know. Starting from individuals, medium-sized businesses, to even giant companies.
Why is that?
The meaning of design thinking is a problem-solving process that focuses on the user (user). So as long as you find someone getting stuck in doing something, you can solve the problem through design thinking.
Using design thinking, the solutions you create are based on a thorough understanding of the user's problems. Thus, the product is more likely to be successful, aka able to meet user needs.
Eitss, that was the leaked information. If you want to know more about design thinking, let's finish reading this article!
Design Thinking Is…
Design thinking is a user-centred problem solving approach. In other words, user needs are your top priority for creating solutions.
But not just any solution, design thinking allows you to integrate human needs with enabling technology, to achieve business success. 
Then, who needs design thinking?
Although initially design thinking was intended for designers, it turns out that this method is also suitable for:
Companies or organizations

 that want to create products/solutions that are successful in society with minimal risk of failure;

Team leaders

 who want to improve collaboration in product development;

Creative workers, freelancers, or anyone

 who wants to increase understanding of user needs to create useful products.
If you are one of the above, that means you really need to understand design thinking. Because, design thinking helps you to:
Understand user needs better;

Reduce the risk of product failure;

Improving products/solutions from time to time;

Accelerate the learning process of product/solution development.
Now, you are more curious about the design thinking process, right? Relax, we will review it in full for you.
Elements of Design Thinking
There are at least four elements in design thinking:
1. User-Centered
Focus on users is a must in doing design thinking. That is, whatever your solution should be centered on user needs. Especially to solve their problems.
2. Iterative (Iterative)
Next, iterative or requires an iterative process. Design thinking requires you to carry out an iterative process of innovating until you get the most optimal solution.
3. High Creativity (Highly Creative)
In design thinking, you are free to develop creativity to produce the best solutions. But don't forget, every creative idea you have to apply elements in design thinking.
4. Langsung (Hands On)
Not only theory or sketches, design thinking requires you to test product ideas directly. So, your product concept is actually rolled out to potential users to see how effective it is.
By adopting design thinking, you are able to understand the needs of potential customers and create effective solutions. How come? Let's know the benefits of design thinking.
Benefits of Design Thinking
Here's a row of the benefits of design thinking that you won't want to miss:
Make it easier for companies to understand the needs of potential customers;

Improve the efficiency of the design process;

Help create new, sustainable innovations;

Reduce the risk of product failure;

Save the company budget;

Increase income.
In fact, 71% of companies agree that design thinking improves their work culture, and 69% say it makes the company's innovation process more efficient .
So you can conclude, the benefits of design thinking are enough to lighten the company's burden. Especially when you do product development .
So in the next section, we will explain the stages in the design thinking process. So, you can put it into practice right away.
5 Stages in the Design Thinking Process
Broadly speaking, here are the stages in the design thinking process:
Empathize:

 understand the needs of potential customers;

Define:  

identify the problem to the needs of potential customers;

Ideate:

 collect solution ideas;

Prototype:

 create a solution model;

Test:

 test the selected solution.
In more detail, please refer to the explanation of the stages in the design thinking process below:
1. Empathize
Focus: Understanding the needs of potential customers.
The first stage, take an empathetic approach or see the problem from the eyes of your target consumer. The goal is to gain an understanding of their needs . So, it's not just an assumption.
Well, the way to do the empathy stage is to do research. What research is that? Please adjust to the context of your business needs:
Market research

 :

 the activity of collecting and analyzing data related to the target market;

Keyword research

 :

 determine what keywords are suitable for use on your blog or website. 

Keywords can also be used to find out what information the target market is looking for;

Product research

 :  

the process of seeking information about a business product, both in terms of price, quality and competition.
To facilitate research, you can use various tools as needed. For example, Google Trends for market trend research, UberSuggest for keyword research, product review surveys, etc.
2. Define
Focus: Identifying problems to the needs of potential customers.
After getting the research data, identify and analyze the problems and needs of your target consumers.
As you do so, keep in mind the principle of design thinking: user-centered .
Well, one alternative to correctly identify the problem is to create a buyer persona . A buyer persona is a fictional character that represents your business' target consumers.
Approximately, this is the data you need to create a buyer persona:
Personal data;

Behavior;

Shopping habits.
With a buyer persona, it is easier for you to determine an effective business strategy. Because the problems of each target consumer group are clearly mapped so that you can come up with the right solution.
3. Conceive
Focus: Gathering solution ideas.
The next design thinking process, ideate. It is in this phase that your creativity must work. So that when brainstorming ideas, many innovations come out.
Then, how to brainstorm ideas quickly and effectively?
Well, you can do a design sprint. The Design Sprint is the process of quickly creating a product within five days. An example of the execution is like this:
Monday:

 understand the problems that occur when going to make a product

Tuesday:

 think about the solution of the problem to make the best product

Wednesday:

 choose a solution from the various options discussed in the team

Thursday:

 create products according to the best solutions

Friday:

 testing products that have been created to consumers
Of the many alternative solutions, you have to choose. To determine it, please consider these three perspectives:
Technically feasible:

 the product performs its function properly;

Economically viable: the

 company is able to execute product ideas into the field;

Desired by the user:

 the product meets the needs of the user.
If you have, you will create a prototype based on the sketch of the idea in the next stage.
4. Prototype/Mockup
Focus: create a solution model.
After having a sketch or product design, now is the time to make a prototype or mockup. Later, you will present this prototype/mockup to the team.
The question is, why do you and your team need a prototype/mockup?
The function of prototypes and mockups is to clarify product ideas so that everyone who collaborates with you better understands the product concept. That way, product execution will be smoother.
Then, what are prototypes and mockups? We will discuss both of them one by one.
A prototype is an initial sample of a product created to test the concept of a company idea.
Because only models, shapes and materials do not have to be perfect. Importantly, the features represent the basic functionality of your design. For example, a prototype bag from cardboard.
If your product is digital, such as a website, you can also make a model. The trick is to make a mockup .
A mockup is a website design design that is equipped with elements, colors, typography, etc. However, the elements and menus are still static. 
Well, this is what distinguishes a mockup from a prototype. In short, the mockup is simpler than a prototype which is quite interactive.
However, both prototypes and mockups are able to provide a real picture of the product concept that you want to realize.
By creating a prototype or mockup, all parties involved in product development are able to understand your idea more clearly.
5. Test
Focus: Testing the selected solution.
Now, you will do the test. The purpose of testing is to see the user's response to the product made.
But before that, the prototype/mockup that you have created must be executed into a more tangible form. 
How to? It's easy, please just create a minimum viable product (MVP). MVP is a product with basic features that have high usability, even though the form is not very sophisticated.
Unlike the prototype/mockup, you actually launch the MVP to the market. So, you can get real feedback from consumers to make the final product later.
Not a complex product, you can create an MVP as simple as a simple website. When you want to open a shoe store, for example, you can try to check the market response by releasing an online store website.
Well, even though this is the last stage of the design thinking process, it doesn't mean you just stop.
Repeat this step from the beginning. The goal is to produce new products that are more perfect, update certain features, and evaluate features so that they function better.
3 Contoh Design Thinking
How does the application of design thinking examples in business look like? Let's learn from some of these great companies:
1. Airbnb
Airbnb is an online service that provides lodging services. Starting from hotels, apartments, house rentals, etc.
To provide the best customer experience, Airbnb continues to improve its human-focused service quality. One of them is through strengthening visual media.
Because Airbnb understands that consumers are skeptical of low-resolution images, the company also provides great hotel photos. Starting from a detailed catalog, high image resolution, to complete product descriptions.
As a result, potential customers also get a clear picture of the hotel even though they only order online. Not surprisingly, Airbnb was able to get revenue of up to 3.378 billion and even increased 4x in 2021.
2. Halodoc
An example of design thinking in the next business, Halodoc. This is a health application that provides consultation to home delivery of medicines.
Jonathan Sudharta, CEO of Halodoc, at that time saw that it was difficult for Indonesians to access health information. In addition, the waiting time in the hospital is also long.
"So we see that in the world of Indonesian health by default there are many challenges to access it. When I saw that I felt, can I make a contribution (in healthcare) with the experience and knowledge that I have."

-Jonathan Sudharta, CEO Halodoc-
Throughout its journey, Halodoc has undergone 200 iterations or changes. Because, in the early days Jonathan and his team only thought of solutions without understanding the root of the problem.
But now, Halodoc has become a successful digital health application. Starting from increasingly complete health services, procurement of qualified websites and applications, etc. Not surprisingly, Halodoc users have more than 20 million people.
3. Braun/Oral-B Electric Toothbrush
The Braun/Oral-B electric toothbrush is an example of product design thinking. The company Procter and Gamble sees that many people's anxiety stems from how to brush their teeth the wrong way or not clean.
Departing from that problem, Procter and Gamble also packaged a solution in the form of an electric toothbrush. In addition to making it easier for people to brush their teeth, this brush also cleans more optimally than the manual one.
Let's Create Innovative Products with Design Thinking!
Design thinking is an approach to problem solving with a focus on the user's perspective. That is, all ideas or solutions that you create must consider the needs of the target consumer.
By doing design thinking, many benefits of design thinking await you. Especially in relation to improving the company's innovation process. 
As a result, the products you produce also answer the needs of the target consumers and can be applied by the company.