The unstoppable advance of 
technology
 has completely transformed our lives. 
The 
search for information
, buying, consuming products and services, working and even the way we socialize and have fun has changed. 
There is already talk of a 
fourth industrial revolution. 
In this context, companies are faced with the challenge of adapting or perhaps disappearing. 
Find out why 
technology
 is betting on digital transformation through this article.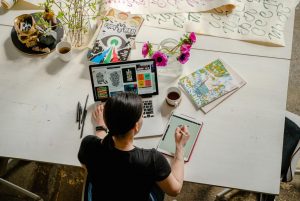 Why is technology betting on digital transformation?
The COVID-19 pandemic, declared in 2020, greatly accelerated the changes and digital transformation of society as a whole. It is a new context or a "new reality", in which the presence of technology is dominant.
In this scenario, among other actors, companies are forced to adapt to guarantee their survival. In record time, worldwide, millions of companies had to adapt their activities to the virtual environment due to health requirements to prevent the spread of the coronavirus.
Another aspect that companies had to modify was the way of conceiving labor relations. Millions of people, in a few days, changed their face-to-face work for remote work from their homes.
What is digital transformation about?
It consists of a complex and extensive process. It is the integration of digital technology in all areas of the company. This means a change in the way you operate, it not only implies readjustments in daily processes but also in your business model and in your organizational culture.
The main objective is, without a doubt, to make the company's processes more efficient. From supply chain to workflow.
In this way, it is also possible to provide greater value to the customer, as well as an improvement in their experience. It is an adaptation that companies must make, among others, to a much more digitized world.
Advantage
In the case of SMEs, for example, digital transformation allows them to reach new markets. Location is no longer an obstacle thanks to technology. In addition, it enables them to establish new relationships and collaborations, and get new clients. Promotes innovation in companies.
But the digital transformation goes far beyond economics. In this new context, our habits in general, such as leisure, fun, and socializing, have also been virtualized. Even buy and sell.
Due to the coronavirus pandemic, virtualization became a way to continue our lives without risking contracting and spreading the disease. Another advantage of digital transformation is the reduction of costs and the economy of natural resources.
keys
To address digital transformation efficiently, three key points must be taken into account:
Promote productive and flexible

 forms of work 

that help retain talent

Foster 

innovative leadership

 with the ability to come up with new ideas

Knowing the 

customer

 through effective data management
For this reason, digitization should be considered a gradual process related to the capabilities and needs of each company. All members of the organization must be involved in its implementation.
On the other hand, the digital transformation must be based on these four fundamental pillars:
Technology

Customer experience

Corporate culture

business goals
Likewise, it must be done with the future needs of the business in mind ; which must be reflected in the business plan of the organization.
Actions
Now let's move on to the concrete actions that must be carried out to implement digital transformation in an organization or company.
Leaving the comfort zone: 

implies having a mindset open to innovation.

Promote digital skills of employees and managers

: innovative, creative people who are willing to train digitally are required. 

Self-learning, collaborative work, fluid, and assertive communication, and customer orientation are required.

Design digital strategies:

 define strategies that involve all departments, customer life cycle map design, measurement of results, error correction, and future planning.
Digital transformation is not an objective in itself but a process that requires a mindset open to change, emotional intelligence, and the ability to adapt to changing environments.